Jingellic is a peaceful village nested on the banks of the Murray River, offering idyllic spots for fishing, camping or paddling, and amazing views from the beer garden.
Jingellic's History
Jingellic (gingellick) is an Aboriginal word, the meaning of which is no longer clear although there is a reference to the word meaning "bald hill" or "slate country" (NPWS 2006).
As early as the 1870s Jingellic was the site of a small commercial punt, providing dry passage over the Murray River between the colonies of Victoria and New South Wales. The punt was replaced by the original Jingellic Bridge opened in 1892, the remnants consisting of steel or iron trestles remain standing in the river. The current Jingellic Bridge built just downstream in 1959, is a significant representative example of a method of bridge building which is no longer used. It is one of several identifiable stages of bridge building along the Murray.
Places to Stay in Jingellic
Established in 1925, the iconic Jingellic Pub situated on the banks of the Murray and steeped in the rich history of the famous river and adjacent high-country region, is a long-time favourite of locals and tourists alike. The Pub offers self-contained cabins and one of the best beer gardens in Australia with its view over the river. Next door is Jingellic Reserve which has a boat ramp, barbeques and a large area for free camping. It is a great launching or landing site for, fishing boats, kayaks and canoes.
The Honeysuckle Cottage BnB is in the heart of the Jingellic village and is surrounded by a beautiful English Cottage Garden which meanders down to the banks of Horse Creek. Nearby is the Jingellic Showgrounds providing a wonderful shaded setting under the historic plane trees for campsites when visiting and exploring the magical Upper Murray. Powered and un-powered sites are available with access to toilets and showers.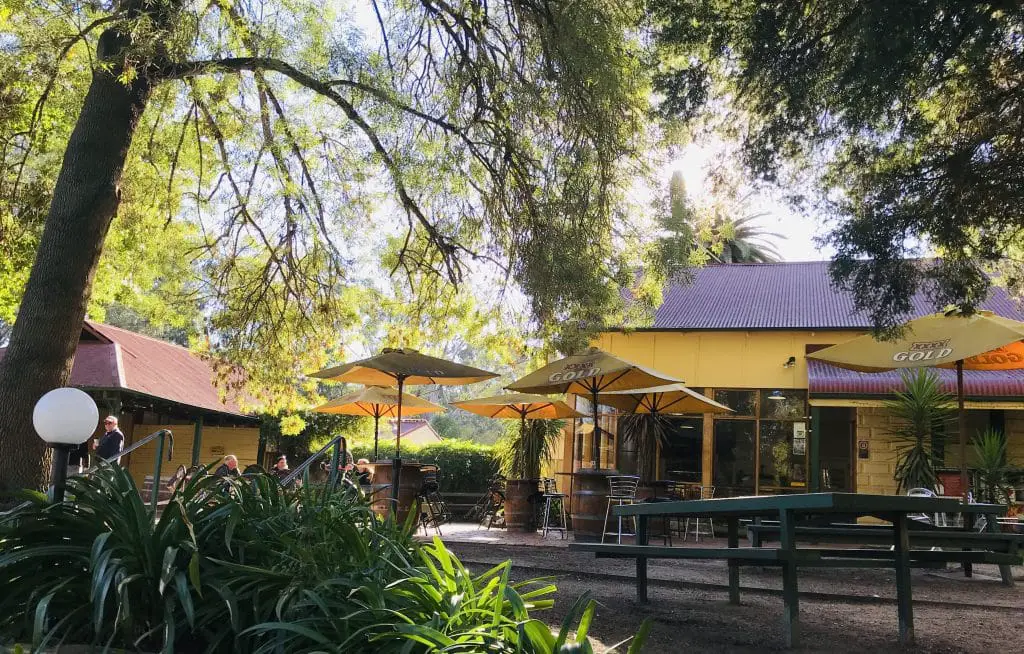 Things to Do in Jingellic
The new Pavilion at Jingellic Showgrounds is available as a venue for family or corporate events. The showgrounds also plays host to the annual Jammin' at Jingellic festival, a celebration of great music and delicious food which sees visitors travel from the Riverina, Upper Murray, northern Victoria, southern NSW, and further afield to enjoy small-town hospitality. A short drive away is the 2137ha Jingellic Nature Reserve, home to a diverse range of native and endangered species of flora and fauna.
Jingellic Services
Across the road from the showgrounds is the local friendly Jingellic Store stocking groceries, fishing gear, bait, gas, coffee and take away food.