Crystal clear streams, cool mountain air and perfect tranquillity, Talbingo offers all this and more and is the perfect base to explore Kosciuszko National Park and the winter wonderland of the Selwyn Snowfields.
Talbingo and its surrounding waterways
Talbingo and its surrounding waterways offer fisherman superb deep freshwater fishing and for a different challenge numerous crystal clear mountain streams. It is also home to the "Jounama Classic" fishing competition-a once a year opportunity to boat fish on Jounama Pondage.
Originally built as a town for the Snowy Mountains scheme, Talbingo has been discovered as a tranquil place to stay by holiday makers. Bushwalkers, campers, trail bike riders, mountain bike riders, snow and water skiers and swimmers are attracted to the area throughout the year. Talbingo is the perfect centre for watersport enthusiasts.  Whether you love to water ski or canoe, prefer to throw in a line, or just play in the water, this is the place to be.  Surrounded by superb mountain scenery, Talbingo is perfect for those who love to be outdoors.
Talbingo Dam
Talbingo Dam is a major rock fill with clay core embankment dam with concrete chute spillway across the Tumut river upstream of Talbingo. The dam's main purpose is for the generation of hydro-power and is the largest of sixteen major dams that comprise the Snowy Mountains Scheme, a vast hydroelectricity and irrigation complex constructed in south-east Australia between 1949 and 1974 and now run by Snowy Hydro. The impounded reservoir is called Talbingo Reservoir, below which is one of the outstanding engineering feats of that era, Tumut 3 Power Station. Although tours of the power station have ceased, visitors can check out the Snowy Hydro display located in the Talbingo shopping centre complex.
Boating is a popular recreation on Talbingo Dam.  To obtain access to the boat ramp, turn left at the Tumut 3 Power Station and follow the signs.
A buoyed off swimming area has been created on Talbingo Dam.  Many tourists flock to this swimming area during the summer months.  Follow the signs to the spillway after you travel behind the power station.
The top of the dam wall offers a breathtaking view over the domineering pipelines to the waterways below.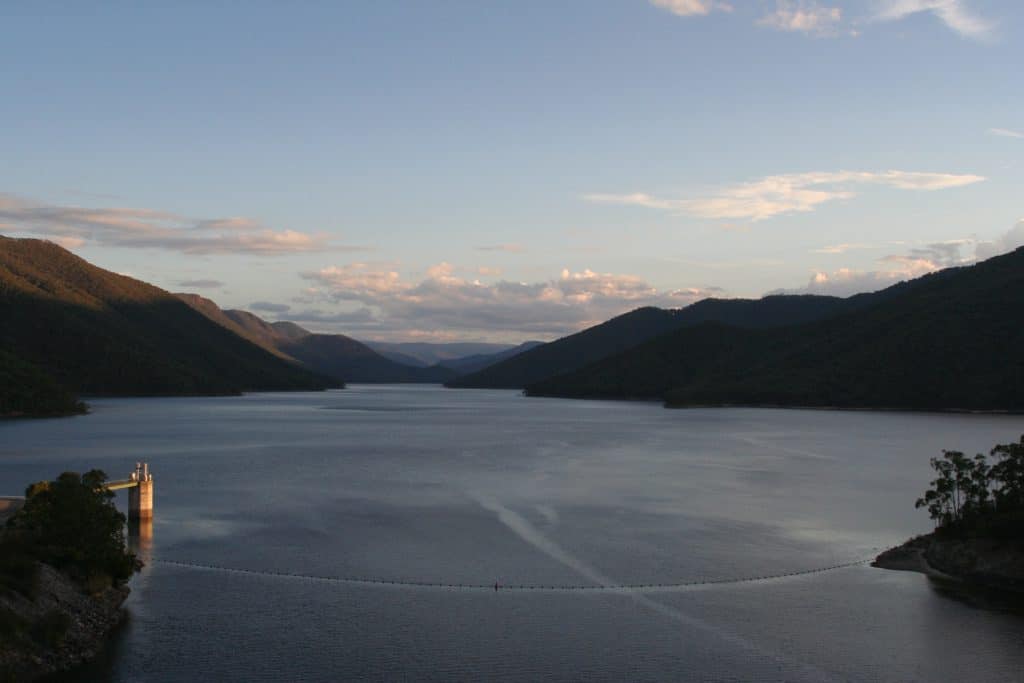 Places to stay in Talbingo
Talbingo's accommodation includes Talbingo Country Club Motel, Talbingo Tourist Caravan Park (including powered and unpowered sites, and a variety of self-contained cabins), holiday cottages, Talbingo Mountain Retreat and several picturesque campgrounds. Your dining options include Australian and Chinese meals at the Country Club, modern Australian meals at Talbingo Lodge, takeaway from Talbingo Supermarket, or making use of one of the free bbqs around town.
Talbingo's services
Talbingo's services include a golf club, service station, library, supermarket/takeaway, and Go Play Outside – offering for hire and sale a huge range of snow sports equipment for you to hit the slopes. Snow chains can be hired from the service station, caravan park and Go Play Outside.